Staff Augmentation
A Perfect Model for Scaling Your Team
Staff augmentation is a staffing strategy often used by companies that need more developers on a monthly basis.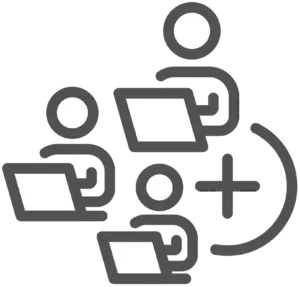 Why Staff Augmentation?
IT staff augmentation is a strategy where companies hire temporary developers to help with their project needs instead of hiring permanent developers. With our help, companies can save money and increase productivity without sacrificing quality. This strategy is very common for companies operating in IT.
IT staff augmentation is becoming more common, especially when you need multiple developers and your in-house team doesn't have the time or the skill set. That's because sometimes there are more tasks to complete than employees who can do them. Staff augmentation ensures that companies have a steady stream of employees they can use to work on projects.
Advantages Of Using Staff Augmentation
Staff augmentation has many benefits for companies that use it, it helps stabilize companies that need to expand. The company has a constant supply of developers who can complete the project efficiently and effectively. Staff augmentation also leads to higher rates of efficiency and productivity.
Another benefit of using Staff Augmentation is the cost savings for companies. By hiring a developer for a specific period of time, the company can save thousands of dollars each month. Some companies are able to pass these savings on to their clients, which can lead to higher sales and a better reputation for the company.
IT Project Outsourcing
Software companies often use this strategy, they hire an IT like us to provide them with developers and programmers to get the job done on time. Instead of hiring a full-time programmer, companies can hire programmers to staff up from the IT staffing agency and then work with us to find other employees to hire as well. This can help the company save money because they don't have to put their own employees to work overtime on programming projects that need to be completed on time.
Types of Staff Augmentation
Augmentation models generally fall into two categories: short-term and long-term services.
Short-Term Services
Many companies require short-term services during periods when personnel are in short supply or when their internal teams cannot handle the workload.
Long-Term Services
You can use this option for large projects that need to fill a skill gap, reduce operating costs, and you do not want to hire in-house employees.
Tips for Hiring Staff Augmentation
If you are thinking of using staff augmentation, then there are some things you should consider when hiring engineers:
Make sure the employee has senior level qualifications.
Make sure the employee understands programming and can work on complex programs.
Make sure you know exactly what the employee can and cannot do for you, have them explain exactly what they can do.
Make sure the employee is always dedicated.
Make sure the employee is consistent in their work.
Make sure the employee has good communication skills.
Make sure the employee is able to work with other employees and customers.
Staff Augmentation for Startup
This strategy is often used by startups. By using staff augmentation, startups can get the job done without worrying about hiring an employee or doing the work with limited staff.
Here at one2crowd, you will find everything you need to outsource your IT services.
If you are looking to outsource your IT needs, you have come to the right place at one2crowd.